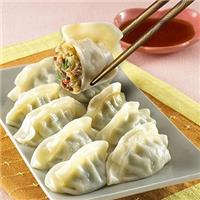 Chinese Dumpling
Dumplings are a famous traditional northern Chinese food. They are half-moon-shaped, soft, stuffed pasta — like ravioli. Dumplings are named according to their various fillings and cooking methods (fried, heated in boiling water, or steamed).
Dumplings have also become a common type of food in southern China, where people don't grow/eat wheat as a rule. "Southern dumpling" skins are typically made of rice.
An Important Chinese New Year Food
Dumplings are a traditional Spring Festival food in northern China, but not in the south. On the eve of the Spring Festival, dumplings have an irreplaceable place in many New Year's Eve banquets, though some areas choose to eat dumplings after New Year's Eve.
Dumplings are a representative Chinese cuisine, with both shape and filling having cultural meaning. That's why they're essential for some during Spring Festival, as they express their aspirations for a better life, and hopes for certain blessings.
Symbolizing Wealth
Eating dumplings at the Spring Festival is said to bring good fortune financially, as dumplings look like ingots (元宝), the currency used in old times.