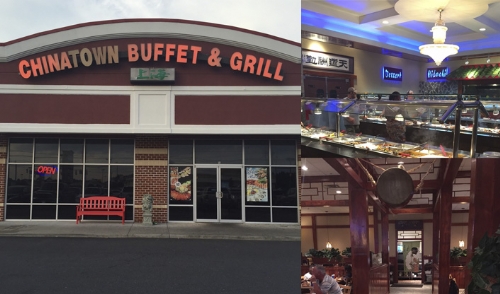 China Town Buffet & Grill
302-644-2688
18701 Coastal Hwy, Dewey Beach, DE, 19971-6190
Spicy
Veggie
Chef Recommended
Most Popular
Health Dining
Full Menu
1.  Chicken Chow Mein
$4.95
2.  Roast Pork Chow Mein
$4.95
4.  Shrimp Chow Mein
$4.95
5.  General Tso's Chicken 
$4.95
7.  Pepper Steak w. Onion
$4.95
8.  Beef w. Broccoli
$4.95
9.  Roast Pork Lo Mein
$4.95
10.  Chicken w. Broccoli
$4.95
11.  Sweet & Sour Chicken
$4.95
12.  Roast Pork W. Chinese Vegetables
$4.95
13.  Moo Goo Gai Pan(Chicken W. Chinese Vegetables)
$4.95
14.  Chicken w.Snow Peas
$4.95
15.  Shrimp Chicken W. Chinese Vegetables
$5.50
16.  Shrimp W. Broccoli
$5.50
17.  Shrimp W. Lobster Sause
$5.50
2.  Fried Chicken Wings(4)
$2.75
3.  Crab Meat Cheese Wonton
$3.25
4.  Steamed Dumplings
$4.00
10.  Vegetables Fried Rice
$6.50
11.  Beef Fried Rice
$7.50
12.  Roast Pork Fried Rice
$7.50
13.  Chicken Fried Rice
$7.50
14.  Shrimp Fried Rice
$7.50
15.  House Special Fried Rice
$8.00
16.  Chicken Chow Mein
$7.50
17.  Roast Pork Chow Mein
$7.50
19.  Shrimp Chow Mein
$7.50
20.  Vegetables Lo Mein
$6.50
21.  Chicken Lo Mein
$7.50
22.  Roast Pork Lo Mein
$7.50
25.  House Special Lo Mein
$8.00
26.  Sweet and Sour Chicken
$7.50
27.  Moo Goo Gai Pan
$7.50
28.  Chicken W. Broccoli
$7.50
29.  Hunan Style Chicken 
$7.50
30.  Kung Pao Chicken 
$7.50
31.  Chicken w. Garlic Sause 
$7.50
32.  Chicken w. Cashew Nuts
$7.50
33.  Chicken w. Mixes Vegetables
$7.50
34.  General Tso's Chicken 
$7.50
36.  Beef w. Broccoli
$8.25
38.  Beef w. Mixed Vegetables
$8.25
40.  Beef w. Garlic Sause 
$8.25
41.  Roast Pork w. Broccoli
$7.50
42.  Roast Pork w. Mixed Vegetables
$7.50
43.  Pork w. Garlic Sause 
$7.50
46.  Shrimp w. Lobster Sause
$8.95
47.  Shrimp w. Broccoli
$8.95
48.  Kung Pao Shrimp
$8.95
49.  Shrimp w. Garlic Sause 
$8.95
50.  Shrimp w. Hunan Style 
$8.95
51.  Shrimp w. Almond Ding
$8.95
52.  Shrimp w. Cashew Nuts
$8.95
53.  Lake Tung Ting Shrimp
$8.95
54.  Shrimp w. Mixed Vegetables
$8.95
55.  Roast Pork Egg Foo Young
$7.50
56.  Vegetables Egg Foo Young
$6.50
57.  Chicken Egg Foo Young
$7.50
58.  Beef Egg Foo Young
$7.50
59.  Shrimp Egg Foo Young
$7.50
60.  House Special Egg Foo Young
$8.00
C6.  Roast Pork w. Chinese Vegetables
C7.  Sweet and Sour Chicken
C8.  Peeper Steak w. Onion
C9.  Beef w. Chinese Vegetables
C10.  General Tso's Chicken 
C12.  Shrimp w. Lobster Sause
C14.  Shrimp w. Chinese Vegetables
S1.  Dry Sauteed Spicy Beef 
$8.50
S2.  Beef w. Scallions 
$8.50
S3.  Pineapple Chicken
$8.50
S4.  Special Four Seasons
$8.50
S5.  Shrimp w.Snow Peas& Baby Corn
$8.50
S6.  Hot and Spicy Shrimp & Chicken 
$8.50
Combination of Hunan Shrimp & Chicken w.Garlic Sause.
S7.  Sweet and Sour Delight
$8.50
Combination of Sweet and sour shrimp, Chicken,and pork.
S8.  Dragon and Phoenix Delight
$9.25
Fresh shrimp,suced chicken, broccoli, snow peas, bamboo shoots and mushroom with white souce.
S10.  Sauteed Double Happiness
$8.50
Shrimp, diced chicken, water chestnuts, celery& mushroom w. spicy sauce.
Shrimp, sliced chicken, suecd pork, Chinese vegetables, snow peas, broccoli,water chestnuts& mushroom mixed w. brown sauce.
S12.  Coconut Shrimp
$11.95
S14.  Singapore Chow Mie Fun 
$8.95
Sorry , The restaurant doesn't support online order, only order By phone !