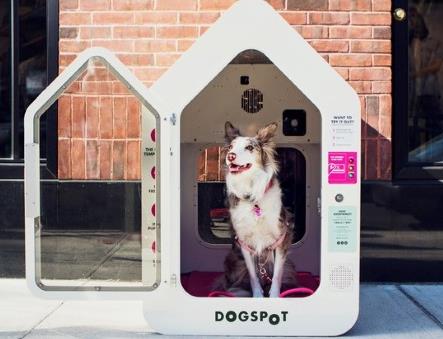 If you ask Rebecca Eyre, being in the doghouse is a great thing, and Fido agrees.
Eyre, spokeswoman for DogSpot, which offers restaurants and retail operations commercial doghouses for customers' short-term use, says the company has tapped a real need among today's consumers: a safe haven for canines when their owners go where they aren't allowed.
According to Eyre, DogSpot is a smart way to increase business and loyalty among dog owners. The company's research, she says, found that 44 percent of households have dogs, but 57 percent of stores don't allow the pets to come in with their owners during visits.
DogSpot is the brainchild of Chelsea Brownridge, the company's CEO and co-founder. Brownridge, who lives in Brooklyn, N.Y., found it frustrating that there weren't enough options available to accommodate her and her dog, Winston, a mixed terrier rescue. Realizing she could provide a better option than tethering the dog up outside or leaving him in the car, she founded DogSpot in 2015 and began working with a team of veterinarians, animal behaviorists and engineers to create the prototype. After a year of R&D, they conducted a two-year pilot in Brooklyn.
The company leases the doghouses, made of shatterproof fiberglass, to the businesses. Customers pay 30 cents a minute to rent them. The usual stay is between 15 and 30 minutes, which works well for quickservice and fast-casual customers.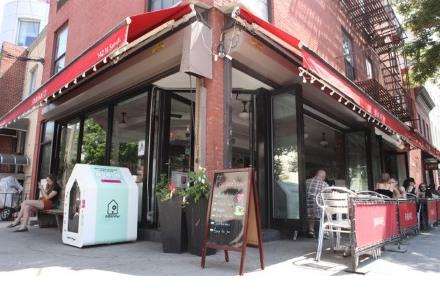 How does it work? Customers download DogSpot's app to rent the units, which are equipped with video cameras. That allows them to monitor their pets via mobile phone. The doghouses are air-conditioned during the summer and heated in the winter. They also are protected against flea transmission and feature tinted glass windows. Depending on space, they're located either on the restaurant's premises or a public sidewalk if there is proper permitting.
Eyre says availability of the doghouses is a game changer for consumers who want their dogs with them when they dine out.
"Fifty percent of our users say they've changed where they shop or dine because knowing their pets are taken care of eases their anxiety," she says. "Because of that, they spend more time and money at those locations, and we're becoming known as a a traffic driver. We're proud to be able to support those local businesses and economies."
What's next? Eyre says the company is in talks with restaurants in Boston, Florida, Las Vegas, Los Angeles, and South Carolina. Washington, D.C., Baltimore, and Missouri are on tap, too.
"We're excited about the future," she notes. "Businesses are going to find the dog-friendly movement is a big deal. We want to make sure we can accommodate everyone who has a dog and needs a place for a quick stopover."
Source: NRA.com