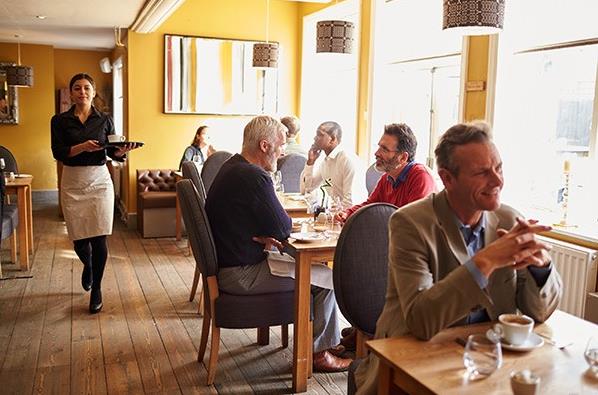 Before we get started, it should be noted that I dine out often and thoroughly enjoy it. The following story however may depict me in another light... Having said that...
Can we truly "enjoy" a night out?
Let's face it...Historically restaurant managers don't eat out beyond the 4 walls of their unit that often. We are programmed to eat standing up...Which makes for a difficult transition to dining out with a spouse or friends. So when the opportunity arises to "get served" instead of our usual dinner of putting out fires while eating cold, dead in the window food (that 3rd mistake in 10 minutes by your best grill cook that you are devouring), we want to enjoy it.
But can we?
Before I go further I just want to add that if any of us ever experience an issue while dining out, we never disclose we are in the business. You know that time when you went for a table visit and a party of 6 had an undercooked burger? The spokesman of the party pulls you over and says "You know, I managed a Jack in the Box in 1998 and blah blah"...You don't give a shit about his resume and nobody gives a shit about yours. They truly don't.
So out I go...Headed to a place that is known for good food and solid service...Not too high end, but with decent food and service, I'm cool with this.
It starts in the parking lot...As I step out of my car and my foot plants firmly on someone's doggie bag full of mush, I think, must have just happened...No biggie. I walk through the lot towards the door anxiously looking forward to a great meal. I quickly noticed that I am side stepping trash...It is randomly lining the edge of the building...No, this is not tonight's garbage...May be yesterday's, or last week's...My mind quickly travels to the fact that management must not used an opening or closing check list. Damn them.
I continue my journey up the walk and to the steps and wonder why the entrance is so dingy. 3 out of 6 over head lights are out. Perhaps they are on a separate switch I joke to myself, but again, the manager checklist would have caught this...But the food is amazing I hear...
I am by myself and meeting some friends, and approach the host stand...2 young ladies are deep into a discussion about front end best practices I assume, with their backs to the door. I wait there for about 90 seconds until a server sees me and runs over to greet me!! I now hope this is my server...Just as she is about to save (greet) me, the 2 hosts break away from that important meeting about creating raving fans and one says "Just one"? The other says "dining alone"? Now that I feel like an absolute loser and am assumed to be single by either my appearance or my age, I say that I am meeting friends and we are a party of 4. My friends are already here somewhere as I received a text from them as the young ladies were solving all the restaurants problems...So one points up the stairs and tells me that she thinks they are "up there". One and 2 word host dialogues kill me.
So I wander "up there", only to see that nice server who attempted to save me from host hell...She says, your friends are this way and she escorts me to the table...Longingly I stare into her eyes and ask, I hope you are our server. She looks back at me and replies; unfortunately I am not...Ok then...
We are located in the bar area...you know that area that was formerly the smoking section and was converted to regular dining? Great I think...I love to watch bar service!
So I glance over to the understaffed and dark bar, and the first thing notice are 2 more dead lights. It's not the switches. I now wonder if I have some dead light detecting super power.
So at this point I am dissecting and analyzing this restaurant and haven't even sat down. In my head I hate myself for this...After my eyes finish looking at blown light bulbs, I notice the bartender running mad trying to keep up with a service window and 9 bar guests, 5 of which had open menus...What is absent is any signs that a server is assigned to the bar area or a much needed 2nd bartender...As service tickets form a thermal bouquet from the printer, and 3 servers patiently wait for their drinks AND my table of friends don't even have bev naps, I know I'm screwed. No I haven't sat down, I am still doing an internal version of Bar Rescue.
I approach my friends and I ask how long they have been here..."About 15 minutes" one says...I asked if they have been greeted..."Nope". So instead of sitting down I begin to evaluate which server I could pull to come assist the bar, and then use myself to help the service window, but wait; it's not my restaurant. So I take my seat and wonder why on earth would a place be so under staffed. Perhaps it was a directive from above? Did someone tell the MOD that operating income was too low and "we need to save money this month"? The first place unsuccessful Managers try to "save money" is reducing staffing levels. Staffing down to save money won't do it. Ever. Never ever.
If a restaurant reduces staff to save money, eventually that restaurant will have the appropriate amount of business for the staff. The profit after controllable issue that this restaurant may have is elsewhere and the old saying of, sales cures all, is being compromised by poor service.
So after another 10 minutes of sitting with my friends, totally parched, and only internalizing my restaurant analysis, that server that has saved me twice already pops over..."You guys still waiting for drinks" she asks knowing the answer already...Her name is Mary, but I have renamed her Wonder woman....She says, "I only have a 6 table station so let me get you rolling"! 6 tables ONLY? I ask? Yeah we are a little short because the M.O.D cut the floor early.
I responded with, "but you're slammed"!
Yeah this is actually the bartenders table... (My head dropped in frustration)...I asked where the manager is in hopes that he or she was engaged in the business elsewhere...
"He's counting dry storage...Inventory night." WTF I mumbled loud enough for too many people to hear.
My guess here is that it's a bar or service manager on because everyone knows GM's don't work Sunday evenings...I then begin to ask this super server why, when the service is crumbling, is he counting food, but I stopped as I am thirsty and hungry and I know it may be hours before this dining event is over...
However I ask one more question; "How does one bartender successfully wait on a full bar, service window and 6 bar tables on a busy night...She quipped: he doesn't" as she whisks away with our beverage order.
Source: runningrestaurants.com